A WordPress website can be bad for business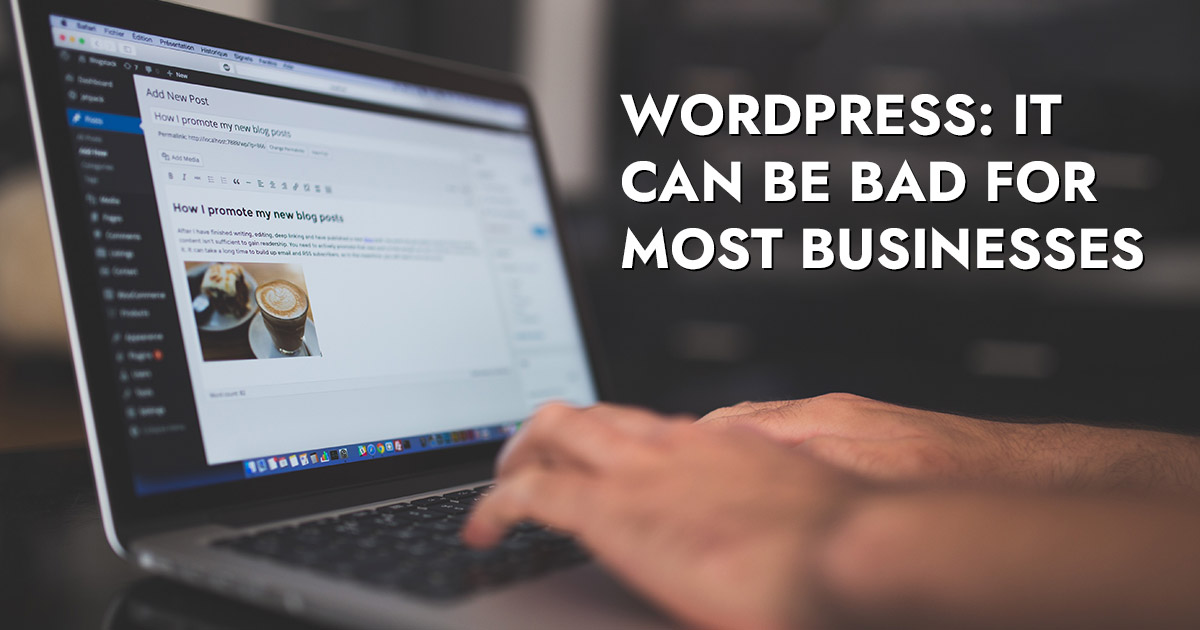 There was a time in the not-so-distant past that we seriously considered jumping onto the WordPress bandwagon. What's not to love about WordPress? It's free, open-source, and it can be adapted to do a lot of things.
As we took on a few WordPress projects, we quickly came to realize that it was the wrong solution for our typical clients in Charlotte, the Carolinas, and beyond.
Fast forward a few years and we are happy with our decision to stay away from WordPress. While many of our competitors jumped exclusively into WordPress, we have seen the benefits firsthand of designing and developing custom websites built specifically to meet the needs of each client.
So, if you own or manage a business and you have or you are considering having a website built in WordPress, please take our advice, and do your research. WordPress could very well end up holding back your online presence and the benefits you think you'll get, like cost savings or ease of use, can quickly dissipate.
Here are some reasons why using WordPress may not be ideal for businesses:
Security
From a business standpoint, the number one issue with WordPress is sustained security. Out of the box, WordPress is considered safe and secure, however, security risks begin to rise as new plugins are added and updates are not maintained. Since it is the web's most popular and most used platform for websites, hackers gravitate toward WordPress. If they find a security hole or exploit in the core software or in one of its many popular plugins, they can potentially attack thousands of websites.
If you are a business, especially one that maintains sensitive data through your website, mitigating your risk to hackers and data breaches should be paramount. Simply put, no website is 100% secure but utilizing WordPress does make you far more likely a target.
Slow Speeds
WordPress in general is going to have slower performance as it has morphed from being a simple blogging tool into an all-in-one, try-to-do-everything website management system. It contains countless features that an individual client will not need while missing critical business features that will require additional plugins. The more plugins and themes that you add to your website, the more bloated it becomes.
All things being equal in terms of hosting, content, and design, a custom website will outperform a WordPress website every single time. We have seen it dozens of times in projects where we have converted a client away from WordPress and have seen almost immediate gains in performance and search engine rankings.
SEO Concerns
How fast your website loads is a critical factor in both user experience and search engine rankings. A good web design company not only designs a website that provides users with a great experience, they also place heavy emphasis on making sure the code behind the scenes is optimized and efficient for search crawlers.
WordPress does have some SEO-friendly features and there are additional plugins to expand on those features, but ranking a WordPress website will simply require far more effort and costs. Additionally, certain specific and technical SEO updates might not be possible within WordPress.
Cost Concerns
Many web designers that build websites with WordPress will often present a proposal with lower upfront costs to develop the website. If you are a start-up or a small business, this offer becomes very enticing when compared to proposals from custom design agencies.
Often, these websites come with higher monthly maintenance fees that these WordPress developers say are needed to keep the website and its plugins up-to-date. These fees typically range around a few hundred dollars a month, sometimes going much higher. Before you know it, you will have spent significantly more on your website than if you had paid more upfront.
Recently, we had a prospective client ask us to audit their WordPress website because they felt like they were being taken advantage of. Sure enough, within minutes, we found that the $300+ monthly fee that was supposed to include keeping WordPress up-to-date and secure wasn't occurring. In 10 months, this WordPress "developer" completed a minor core upgrade but neglected numerous plugins that required fixes. While the client was surprised, we were not. WordPress has created an over-saturation of so-called web "developers" in today's market. Most of these "developers" are simply marketing people that specialize in WordPress. They can build you a site using tools someone else developed but struggle to deliver on any technical requirements you demand.
Our CMS Solution
Promerix Admin is our custom content management system that has been deployed and implemented by large corporations with thousands of employees to small, brick-and-mortar shops including many business Charlotte, NC – our home market.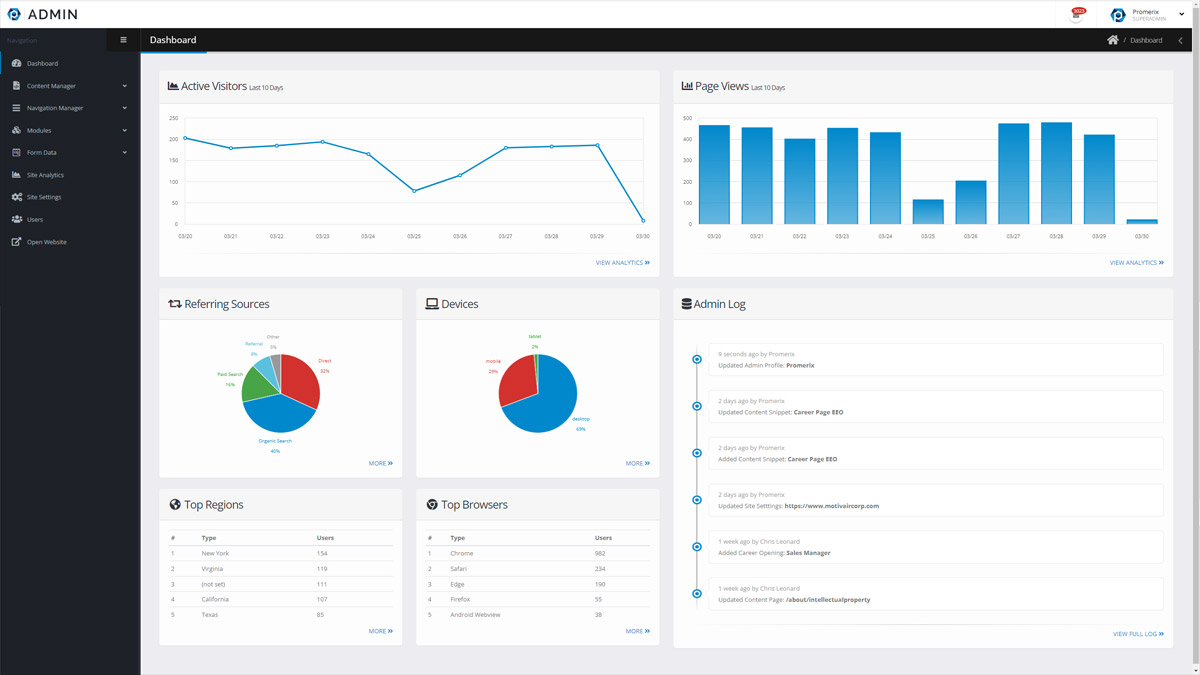 Our system is a search engine-friendly, browser-based content management system that was developed by the Promerix Development Team after studying how our clients managed their websites and applications on a daily basis. And unlike other proprietary CMS software, we don't charge you monthly fees.
While extremely powerful with what it can do, Promerix Admin is extremely lightweight and offers flexibility, security, speed, and scalability – all features desired by businesses needing a successful, results-driven web presence.
Visit our Content Management services page to learn more about Promerix Admin or contact us today to learn how it can help your business website achieve greater success.
---